Safety First
A ramp, by definition is a sloping surface. So it is most important that we help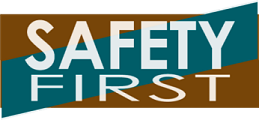 you decide on a ramp that includes features to not only keep the wheel chair user safe, but also care-givers and family members as well in all weather conditions. We can advise you on the ADA guidelines for the slope, as well as conditions that require safety hand rails, resting platforms, turning areas, etc.

Best fit for you
Limited space? Access to a back yard deck? Twists and turns over  landscaping and stairs to a driveway?
Properly fitting and installing a wheelchair ramp can be a challenge if you have not installed one before.  Aside from knowing ADA guidelines for slope, load, length and other safety concerns, we know the building codes and other regulations .
But most important, we're good listeners.  We will understand  your concerns, then recommend the best combination of ramps to suit your needs. Yes, ramp"s" (plural), because In most cases, we find that getting in the front door only gets you half way there. You may also need small "threshold" ramps inside the house to get into a bathroom, down a step into a sunken family room and over other little obstacles.  We know the many options to creating a seamless, accessible floor space. We've already done the homework for you, so we can quickly help you get to the best combination to suit your needs and budget.
Professional installation
After we have agreed on the right combination of products, we will deliver your ramps and install them for you. The right ramp for your setting may be any combination of aluminum, wood, rubber or even plastic.  Ask anyone who has tried to build or assemble a wheelchair ramp themselves. It takes skill and experience to do it right, secure and safe in all kinds of weather. Before we leave the installation, we re-check each piece for proper assembly, stability and user safety.  We stake our reputation on quality.
Want to see how we assemble a modular aluminum ramp?
Click here to see a YouTube video
We'll do the work for you! Installation is included in our pricing.